Bethel men's soccer team wins NAIA National Championship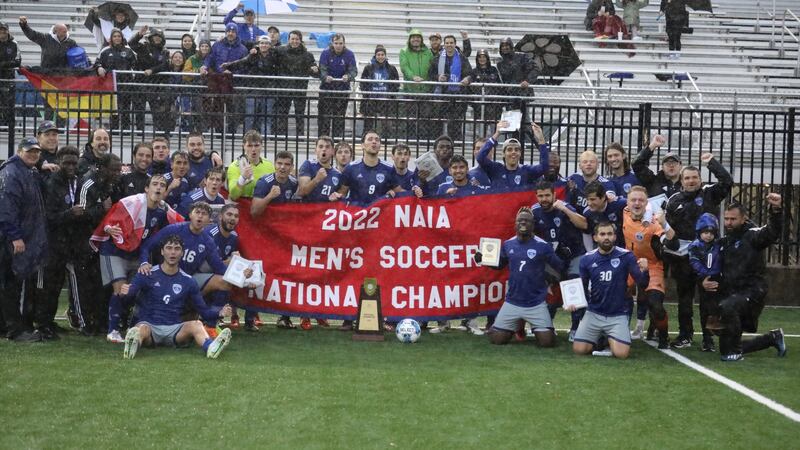 Published: Dec. 5, 2022 at 9:09 PM EST
DECATUR, Ala. (WNDU) - The Bethel University men's soccer team won the 2022 NAIA National Championship on Monday, defeating Mobile (Ala.) 3-1 at the Jack Allen Soccer Complex in Decatur, Ala.
Junior Luan Bressy scored Bethel's first two goals, while sophomore Piero Sabroso added the Pilots' third goal.
Mobile would score on a penalty-kick in the 57th minute, but it would not be enough to create a comeback as both teams battled the last 25 minutes through a heavy downpour to close out the match.
Head Coach Thiago Pinto — who also happens to be the head coach of the South Bend Lions — won his first national championship in his 12th season.
"We felt like we had to really be ahead in every way in our preparation," Pinto said after the match. "And in the game, we had to to start well and we did, so I think it set the tone for the rest of the game and we just had to play our best game. Our guys did what we asked them to do much better than the game before. They became a team. They were selfless. These guys honor each other in a way that I haven't seen in my time coaching, so that made that special."
The national title is the school's 45th overall and the first NAIA title for the men's soccer program. This is the first NAIA National Championship for Bethel since 1998 when the men's basketball team won their third NAIA Championship.
The Pilots close out their season with a record of 24-1-1 after winning their last 22 games. Their only loss came over three months ago on Sept. 1 at Central Methodist (Mo.).
Click here for the full box score.
Copyright 2022 WNDU. All rights reserved.